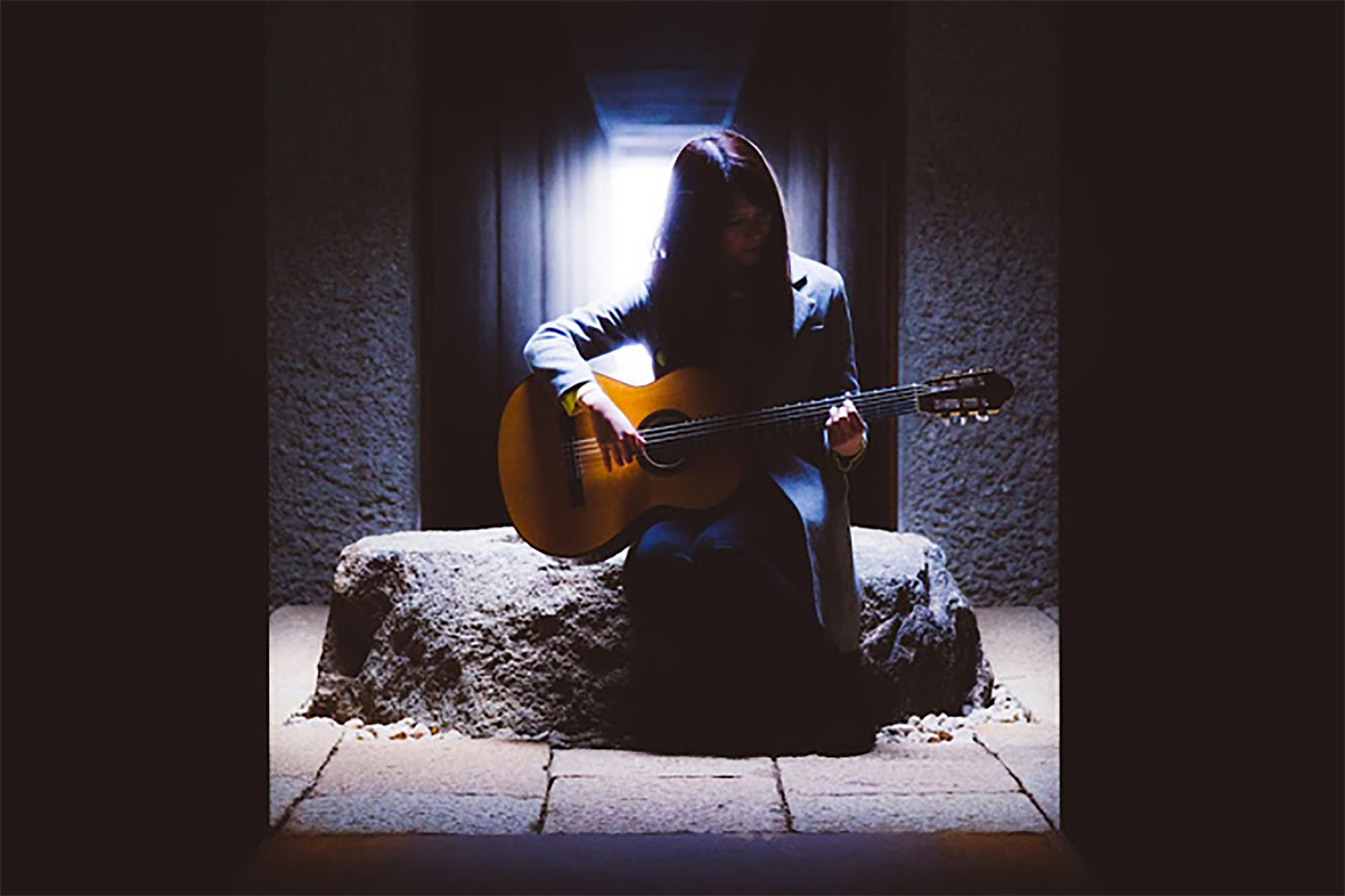 "I didn't know about ambient music before I started studying at university," explains the Japanese classical guitar virtuoso Ayane Shino. "Once I got to know it, I was blown away that it exists, and I realised it was something I could play with within the context of classical guitar music." Last year, Shino delivered on the promise and potential of reframing ambient music through her specific musical lens with Sakura. Recorded for Music Mine is Tokyo and fully titled Sakura [The Timbre Of Guitars #1: Susumu Yokota 横田 進], Sakura is an EP of acoustic guitar covers of songs from the deceased Japanese electronic music legend Susumu Yokota's 1999 masterwork of the same name.
Equal parts intimate and expansive, Shino's Sakura tribute is one of those quietly delightful releases that seems incapable of wearing out its welcome. Last month, it was re-released worldwide by Switzerland's Mental Groove Records in vinyl and digital formats. On the 4th of December, she will perform it live in Tokyo at Seion, held in Shibuya's Galaxy – Gingakei venue alongside a legendary lineup that includes Inoyama Land, Takashi Kokubo, Chillax, Yakenohara and the Lonestar DJs. If you're not in Tokyo, you'll be able to stream it online via a pay-per-view service here. But before Seion arrives, let's rewind things and take a proper look at Shino's story.
Shino was born in Hyogo prefecture near Osaka. By virtue of her father's line of work, her childhood was spent between Hyogo, Kochi, Kyoto, Kagoshima and Hiroshima, before moving to Tokyo when she started university. "When I was little, all I ever did was study," she laughs. On reflection, she realises that the exposure to different types of people and scenery her childhood afforded profoundly influenced her guitar playing style. "I imagine these scenes I've seen and the conversations I've had and put them into my playing," Shino explains.
That said, her first instrument was piano, followed by classical guitar at age eight. During junior high school, Shino became interested in jazz-rock, Brazilian music, Latin music and pop. However, electronic music and ambient music - in the vein of Brian Eno, Aphex Twin, Oneohtrix Point Never, Steve Reich - arrived during her university years at the Tokyo University of the Arts, where she completed the doctoral program. "University was where I learned how to produce music and deepened my understanding of classical guitar tones," she says while citing the English guitarist Julian Bream and the Brazilian guitarist and composer Yamandu Costa as key classical guitar inspirations.
Closer to home, Shino was also fascinated by the work of the deceased cult Japanese record producer Rei Harakami, one half of Yanokami with Akiko Yano. Transcribing and replaying his music on acoustic guitar started her on the pathway, which led her towards Susumu Yokota's music and her working relationship with Music Mine.
"Out of all of the music of his that I've heard, Sakura is my favourite," she says. For Shino, the album evoked a bittersweet beauty that she compares to when the cherry blossoms fall. Listening to his music was a cinematic and transportive experience. Every song would take her to a whole new world, and with that feeling in her heart, transcribing and interpreting her favourite songs on Sakura had become an inevitability.
Although she's still a relatively new name within the worlds of electronic music and ambient, Shino's classical resume is remarkable, to say the least. Some of her accolades include co-starring with the Polish National Krakow Orchestra as a piano soloist, performing as a soloist with the Kagoshima Symphony Orchestra under the conductor Daisuke Soga, and participating in the Londrina Music Festival in Brazil, as well as playing guitar for numerous animations, movies and television commercials, and holding a variety of educational roles.
She makes classical performances regularly, but for Shino, performing Sakura at Seion is a gateway into a new world. "It's very different from what I usually do," she says. "Normally, I'm not very nervous. Being part of this makes me very nervous, but there are a lot of great artists involved." That said, she's very happy to be part of it and able to express herself in this context. "Right now, I'm very interested in music that involves a lot of freedom," she continues. "Playing like this is much more enjoyable for me than doing something regimented or inside the box."

Sakura [The Timbre Of Guitars #1: Susumu Yokota 横田 進] by Ayane Shino is out now in vinyl and digital formats through Mental Groove Records (purchase here)
Special thanks to Ken Hidaka for translation assistance during this interview.