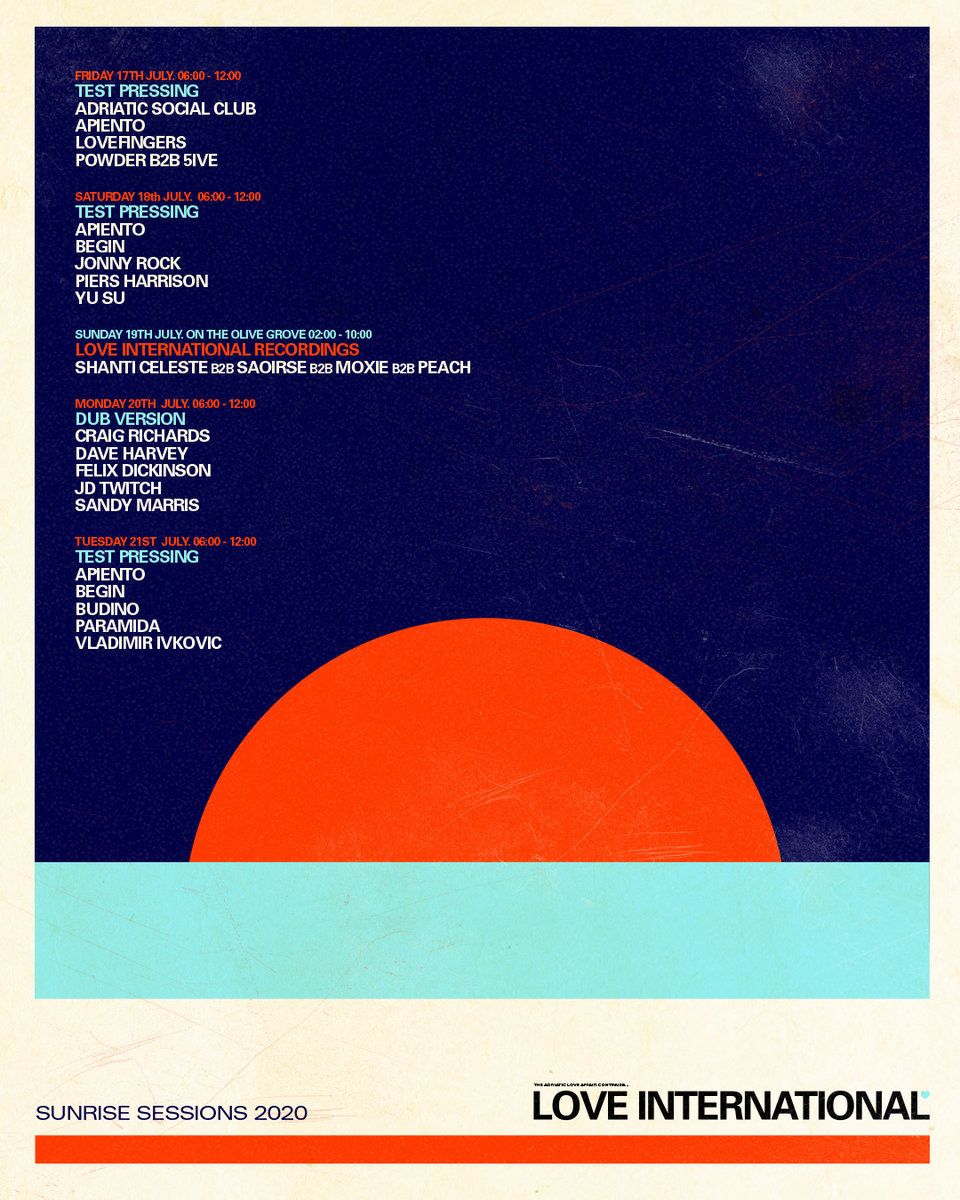 A public announcement from Test Pressing Towers...

Love International X Test Pressing present Sunrise Sessions 2020

It's getting lighter and warmer down by the ocean, under the olive trees, and the Sunrise Sessions are starting. In one of the more scenic coves along the coast by Tisno, some people are just getting up and others are just getting in. The gatherings have grown from their somewhat rickety table beginnings but the feeling is still as loose and intimate as it ever was. Some swim and paddle in the almost comically blue sea, the lucky ones to get a hammock rearrange their limbs, lounging in those hammocks to get even more relaxed, others nod and bob to the pulse that drifts out of the big, black speaker stacks. Zoning out, locking in, feeling it. The music matches the mood that matches the music.

Test Pressing have been curating the Sunrise Sessions for 6 years now and each season it has found a way to grow and expand whilst holding onto the feel of a little secret. I can't believe we're here! Musical freedom in paradise. A moment outside of time. And in 2020 what was once just a weekend thing has overspilled into the week, bringing back returning heroes and a bunch of new faces to the DJ booth with the best view in the world. A true chance to stretch their legs musically.

For the first time we're excited to welcome Vancouver's Yu Su, Düsseldorf's Vladimir Ivkovic, Bundino, the future sound of cosmic, Los Angeles' Lovefingers, London's (via Turkey) Jonny Rock, Paramida formerly of Berlin, latterly a citizen of the world and from Cos/Mes and Mascaras, Tokyo's 5ive back to back with Powder. Back once again, Test Pressing's own Apiento kicking off 3 mornings, UK balearic bedrock Begin (James Holroyd), Croatian homeboys the Adriatic Soundsystem and Piers Harrison of Soft Rocks fame. And, on Monday, the return of the mighty Dub Ve)sion with Craig Richards, JD Twitch, Felix Dickinson, Sandy Marris and Dave Harvey flexing their reggae selection without exception.

So, see you by the sea for Test Pressing X Love International's Sunrise Sessions – a good, good feeling. Guaranteed.
Words: Piers Harrison.