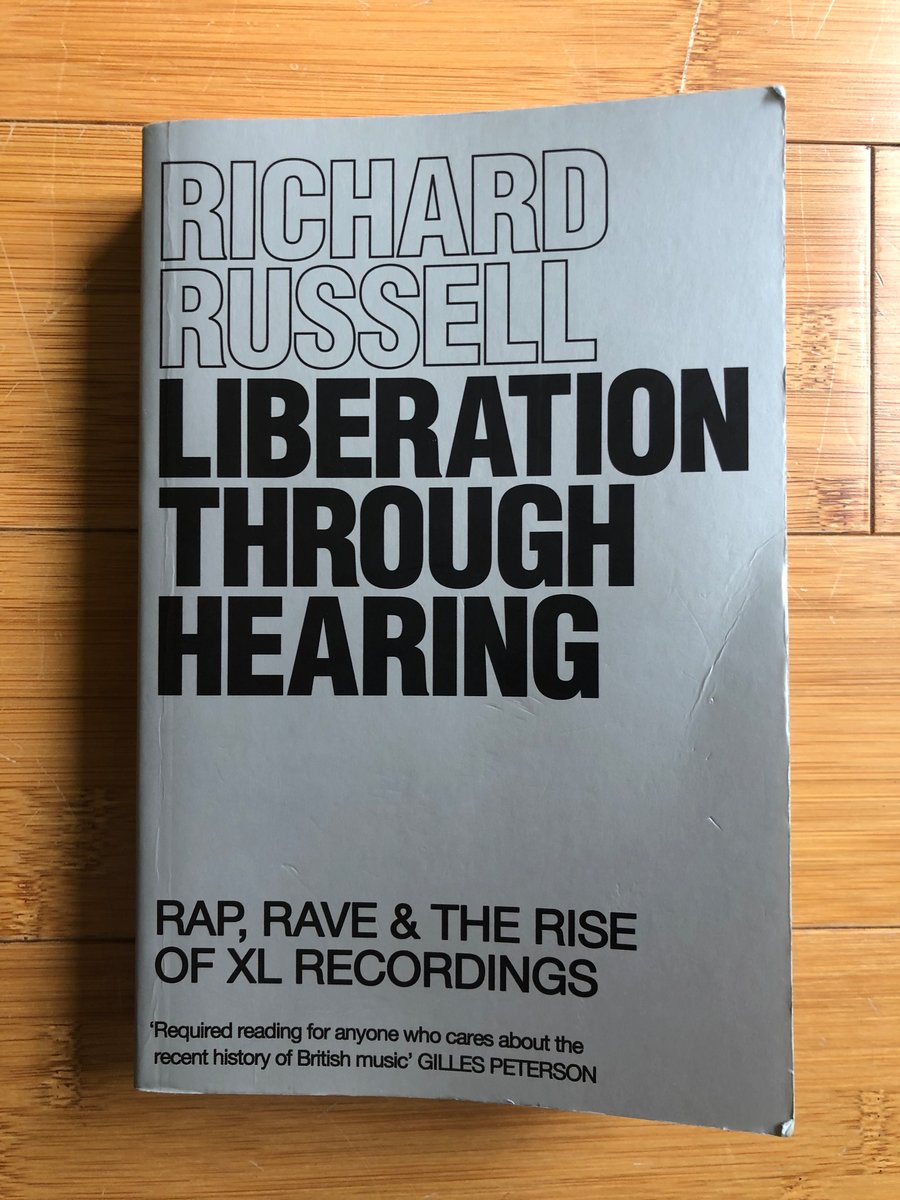 Can I be honest in starting here... Richard Russell massively confounds my expectations here. I'm not sure what I was expecting here but it wasn't this. Here's a man that made a seminal rave record, took on the running of a record label aged 23, delivered hit music worldwide on his own terms under his own guidelines, delivered and guided the careers of a number of the worlds biggest acts, rehabilitated the careers of some of the greatest musicians to live, rehabilitated himself from a life-threatening disease and went on to do what matters most with those he loves around him. I mean to be honest that could be the review of this book right there. But there's much knowledge to be found in these pages.
As some of you know reading this I worked at Junior Boy's Own for around ten years and XL Recordings were at one stage in the same place as us as a label. Or we were at the same place as them. We both had massive dance acts changing the world (they had The Prodigy, we had Underworld) and the ability to go anywhere we chose. They signed Dizzee, who amongst others took the label into new wider roads, and funny enough we were also looking at the Pay As You Go Crew (Dizzee's original crew alongside Wiley et al) via Nick their manager before Nick took off with Dizzee and concentrated his efforts on him and signing him to XL. Anyway, the comparison kind of stops there as the labels took different paths but I guess I was interested to read about the early days but there is far more here...

I found a lot of parallels to my early (and still to this day) loves in the first chapters off this book. Many of you will have the same. A voyage of discovery in music that leads to a mad passion that stays with you for life. That music that looks inside and builds the foundations of all to come. A potential...
Russell is fearless. After some false starts party promoting in the UK, aged 19, with a love of dance music in his bones, he takes off to New York and blags a job working alongside Pal Joey at Vinylmania - one of New York's finest record stores. This kind of sums him up… Someone that follows his heart (and is kind enough to tell us what he learnt along the way). I mean you can read in the book, and he's very honest about this, there are points that he loses the way and isn't sure what he's doing, but he is wide-eyed enough to see the signs when they come and with guidance from the Beggars Group when required (they are the umbrella / partnering company of XL) and those around him he manages to basically build one of the finest music labels out there.
As I said, aged 23 Russell was given the reigns at XL - a sub-label originally of London's Citybeat label, and was in his own words 'a twenty-three year old with not much subtlety but a lot of enthusiasm and some big ideas'. From there's it's a journey. Through rave, grime, Adele, worldwide hits and musical loves. I am hugely fond of the music industry when it works correctly and delivers what it should. Incredible music in beautiful or considered packaging. It's just fact that one of the high points of this is the 80s Compass Point period of Grace Jones when at Island Records. This is some of the greatest music ever made in some of the most gorgeous sleeves (via Jean-Paul Goude) overseen by one of the greatest music people ever in Chris Blackwell, head of Island Records. Russell agrees and takes the same goal to his work at XL.

...we have someone that learns, can learn from their mistakes, is willing to see and learn from others and wide-eyed enough to learn from the world.
One of the most enjoyable elements of the book is the sage advice he both picks and up and distills himself. Here's some of my favourite thoughts and notes from the book. These should encourage you, if you are creative in mind, to pick this book up…
- Rick Rubin once said to him on the nature of feedback, 'When you give people comments on their music, if you are talking honestly about how it makes you feel you cannot be wrong. Do not think you are right. Just know how you feel.'
- When building the success of the Prodigy, 'I was starting to realise that a large part of the creation of success was about ignoring the reasons it might not happen. Blocking out reality and getting on with it. Focussing on what I wanted to happened how to get there, not the reasons it was unlikely to work.'
- On signing hyped artists that have had a bidding war type situation, 'It's a story that happens again and again, but it's an existentially miserable experience. With ego running the show and a desire to create commercial success taking precedence over creativity, it's not like anyone is going to feel sympathy when it blows up in your face'. (I.e be authentic / stay authentic / support authentic / do what you love / do it well).
- On finding XL's new path, 'I wanted XL to be a label that did what independent labels did - put out music that they believed in, that was original and of high quality, not necessarily commercial. But I wanted to combine this with an important aspect of what major labels did - which was selling the music with a no-holds-barred approach.' (Fuck yeah!).
- On learning a lesson from a bad review and in relation to working with the don Bobby Womack, 'it's not enough for the singer to love the music, does the music love them?'.
- On his place (put simply), 'It was important that XL continued to develop, but I was never actually in control anyway. That feeling is illusory. I was increasingly able to see that things were happing via me, not because of me, and it was actually important to stay out of the way.'
- Finally one learn that came via Beggars Group head Martin Mills, a man quietly aiding many things many of us love to happen and whose label XL are partners with, when Russell felt that Beggars were holding XL back… 'He simply called my bluff. Until that point, I had not even known I was bluffing. He wrote me a letter saying that if I was not happy with how our partnership was working, which from my constant complaints he deduced to be the case, we should simply call time on it. His punk roots became visible. If you don't like what's going on, he was saying, end it.'
Ok so here, trusting you have just read the quotes from the book above, we have someone that learns, can learn from their mistakes, is willing to see and learn from others and wide-eyed enough to learn from the world.
Putting my industry hat back on… Way back when I managed the producer Switch and then after a (very funny) trip to Jamaica we went into the studio and did some early M.I.A stuff before Dave (a total genius) went on to do more with her. At that point I couldn't work much so was more on the blag / vibe tip of what stuff what should be happening in the music (which don't get me wrong does has a value). Thankfully I learnt to work the gear. Anyway, point being, XL's publishing arm own some of my publishing and they are regular as clockwork at reaching out with statements etc. Point is, business-wise it's a tightly run ship. It's not easy to navigate this marriage and Russell is keen to point out that Ben Beardsworth (now MD) has come through the whole business to manage XL perfectly.
As I said at the top I sort of wasn't sure what I was getting in to when I picked this book up but it's a really reaffirming read with the message being, for me, to stay true to what you love. There are too many people out there 'faking it to make it' and taking from scenes that aren't theirs to progress what they do. Russell confirms that there is another way to do this. To me it's a message to avoid decision making based on stats and instagram followers and instead to work with talented people and let the talented people do their thing. Make good stuff and get it to as many people as possible. Put simply... Stay true. Do what you love. Be open. As I step into a new idea I feel gratitude for this. Big up the music makers.