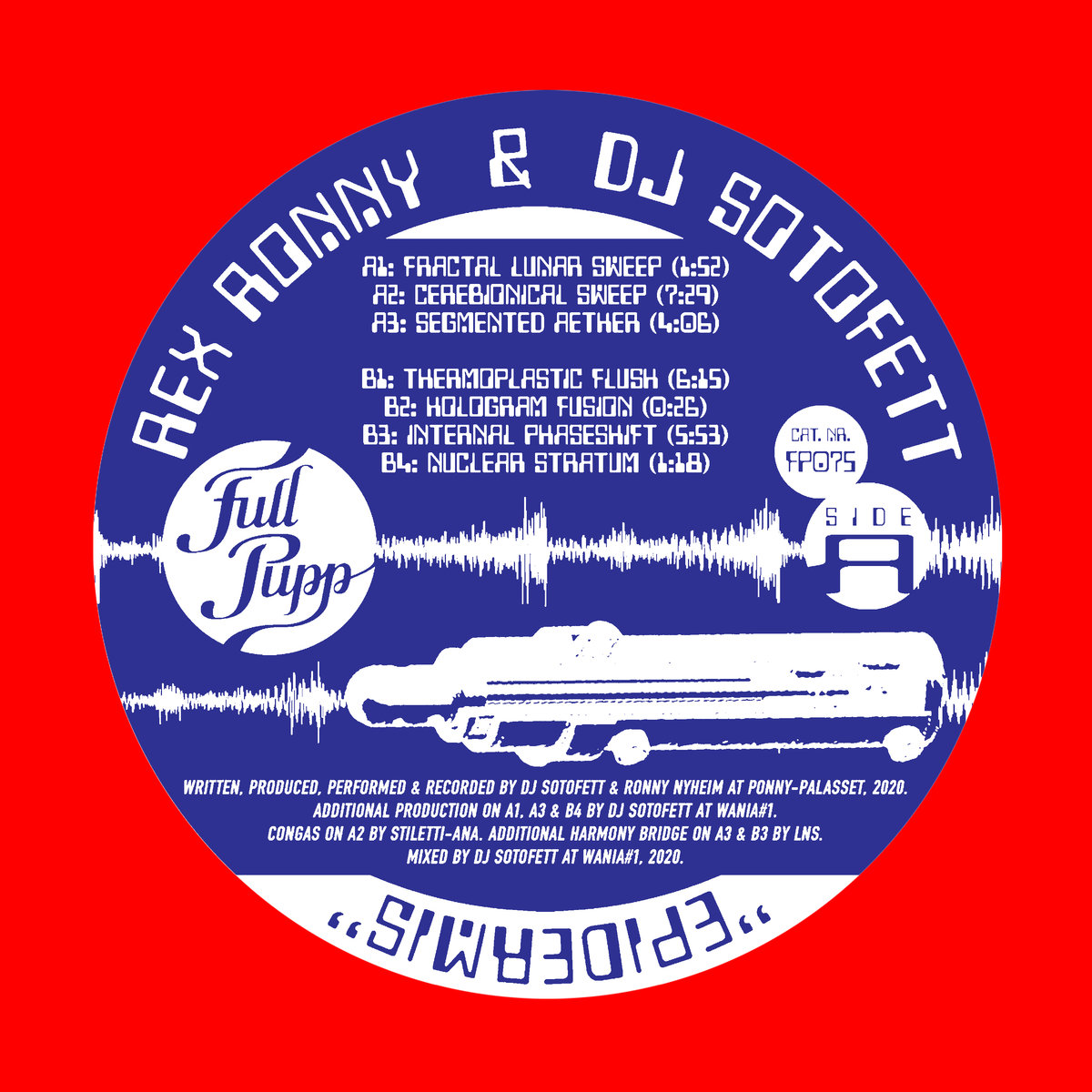 We like DJ Sotofett at Test Pressing. We like what he stands for and that his music ranges from the mad spacey to bashment to whatever he's feeling. Here he's linked with Rex Ronny to deliver a 12 for Full Pupp though tbh it's more of a mini-album. It's a record for all occasions.
The bumpf tells us that Rex Ronny (aka Ronny Nyheim from PsyPal fame) was challenged by DJ Sotofett to play all synth parts live in the studio, for Sotofett to mix the material in his new studio set up for ultimate cosmic, dance & dub sonics. Additional sound comes from percussionist Stiletti-Ana and LNS on the music side. Long story short this basically this sounds like Sotofett has set up his studio old school style to run effects etc and go weird live on stuff via the mixing desk rather than the automated precision drawing in of detail that a lot of producers do. If this is the case we fully support a move back to this way of doing things. Live music and recording with live mixdowns to tape (or the computer). When you think back to the stories you hear of people hand playing drum machines (like Prince) that feel you get from live playing makes a total difference. It can be tight but loose at the same time. This is the case here.

The weirder end of things is covered with the spacey intro of 'Fractual Lunar Sweep' and the almost classical ambient jam of 'Segmented Aether' and the pure ambience of 'Hologram Fusion' and the closing 'Nuclear Stratum'. Mixed between these are some pure (for Sotofett) disco moments like 'Thermoplastic Flush' and 'Internal Phaseshift' which are pretty much italo with a weirder edge and finally you have the early floaty UK house vibe of 'Cerebionical Sweep'.

As we said its more mini-album than 12" so thus not only is it ace but it gets a value for money sticker as well. You can check the clips here. This one is out Friday on 23rd July on Full Pupp.