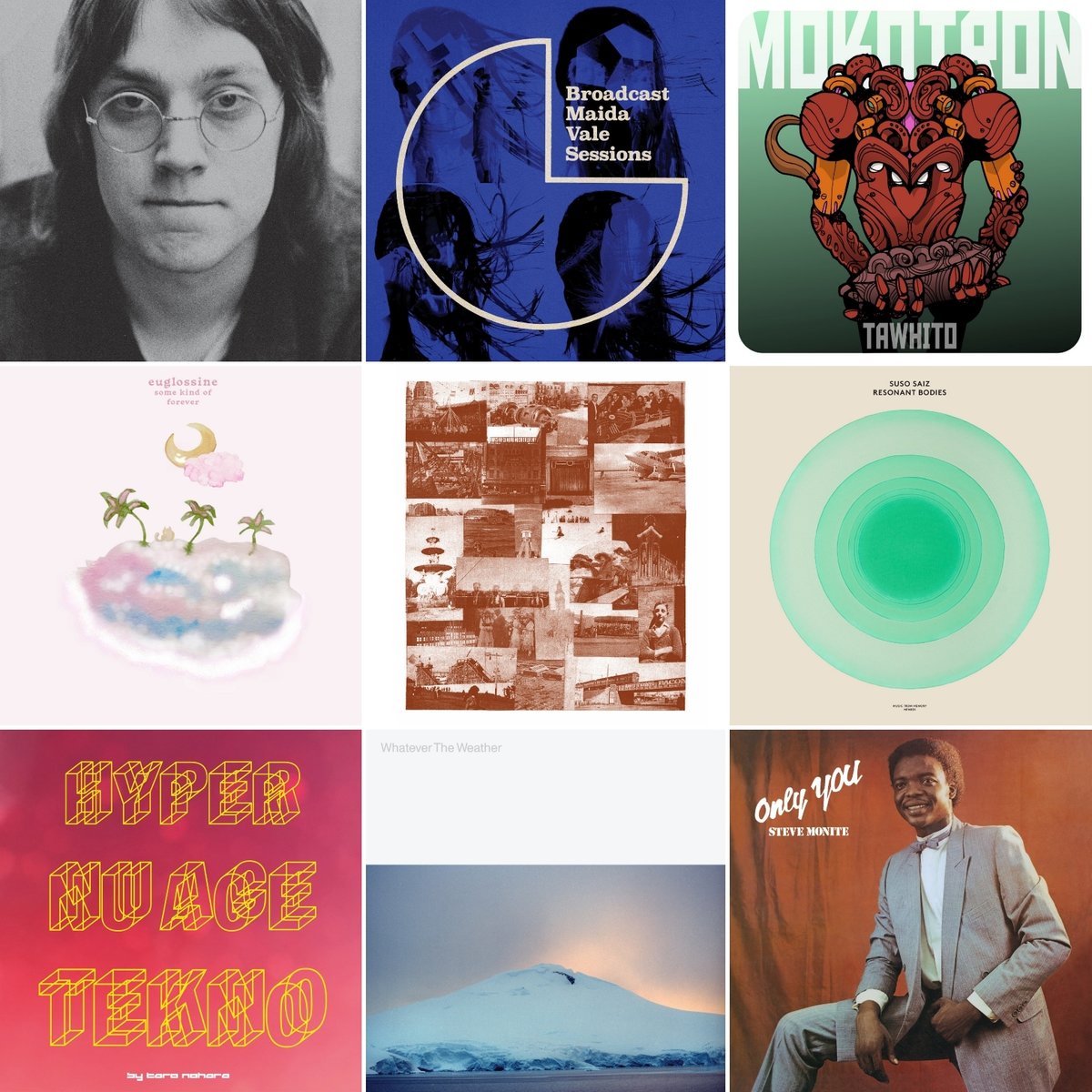 For those unfamiliar, Bandcamp Friday is a sometimes monthly event where Bandcamp waive their revenue share from sales to help support artists and labels affected by the pandemic. The next Bandcamp Friday is April 1st 2022 from midnight to midnight Pacific time. When I remember, I like to put together a recommendation list, and today is one of those days.

Today's first entry is Antipodean label Strangelove's reissue of Swedish drummer/producer Sjunne Ferger's 1984 cult classic "Mindgames". A Child jazz drummer prodigy, arts venue operator, music teacher and Aikido practitioner, when Sjunne and his numerous collaborators recorded "Mindgames", they brought together a disparate set of life experiences and influences, coming up with a new wave/jazz fusion/Balearic crossover album for the ages. Sjunne styled this as "Polymood Music" and the concept checks out.

Prolific Gainesville multi-instrumentalist and composer Tristan Whitehill returns with a new project under his Euglossine moniker, and what a project it is. Across the eleven knowingly titled tracks that make up "Some Kind Of Forever", Whitehall seeks simplicity and minimalism, swapping out the jazz fusion, sound design, and computer music of his prior releases for an evocative blend of library music, synth-psychedelia and meditative jazz. His instrumental structures are smooth and enticing, like a futuristic city floating high above the earth in the clouds, but they're not so smooth that they become wallpaper. Something is always going on below the surface here.
I couldn't let this one slip by. "Maida Vale Sessions" compiles four of Broadcast's live performances inside the hallowed West London studios between October 1996 and August 2003. Over fifteen recordings, it charts the band from their first year together to the point of international recognition, with their sound mutating all the while. Arriving eleven years after the death of Broadcast's Trish Keenan, "Maida Vale Sessions" is a bittersweet reminder of special songs and times.
"Tawhito" is an energised indigenous electro and breakbeat EP from the Tāmaki Makaurau, Aotearoa-based Māori electronic music producer, vocalist and instrument maker Mokotron. As Mokotron noted on Instagram, "Tawhito, meaning 'ancient', is an exploration of Māori ancient futurism that imagines a reality without colonisation, where the ancestors transition from the ancient world into the modern world to create futures of hope." Across "Tawhito" Mokotron adds Taonga pūoro (traditional Māori instruments), karakia (chants) and mōteatea (songs of lament) to hard-hitting, bass-heavy club sonics. It's a different way to look at a classic sound.

Music From Memory and the great Spanish ambient musician Suso Saiz reconnect for his seventh project with the label, "Resonant Bodies". Recorded over the course of two years, "Resonant Bodies" saw Saiz slowly layering sounds to build up imperfect and synchronized sound objects. As he puts it on Bandcamp, "A body vibrates producing a sound that reaches another body and makes it vibrate and generate a new sound that makes another body vibrate that generates another sound... Imagine an infinite orchestra of bodies multiplying their sound vibrations creating the symphony of RESONANT BODIES. Resonance as a principle of COMMUNICATION; sound as a builder of ties and interrelations between men. RESONANT BODIES pieces are part of a whole and are both generators of it."
After reissuing Dr Ros Bandt & LIME's 1983 rhythmic sound sculpture "Soft & Fragile", Melbourne's Efficient Space continues digging up the good Australian stuff with the first-ever vinyl edition of Hydroplane's self-titled 1997 debut. Sampledelic breakbeats, ethereal vocals, elegant guitar figures and synthscapes plus a haze of drone, you know the four-track formula. It's a good one and it still works. I'm planning to talk to Hydrophone's Andrew Withycombe soon, so will keep this brief.
This one does what it says on the tin, and it does not let up. "Hyper Nu Age Tekno" is the latest one from Japan's Taro Nohara (aka Yakenohara), fittingly released through Germany's Growing Bin Records. Drawing from the Sheffield bleep scene, the braindance days of IDM and the more interstellar-minded side of ambient, "Hyper Nu Age Tekno" sees Nohara working with chrome-plated sounds as sculpture. However, instead of sculpting alone in a studio space, he's sculpting in the middle of a nightclub, and everyone's dancing to his handiwork. Very cool stuff.
In recent years, the North London electronic music producer Loraine James has masterminded a series of quietly remarkable and introspective albums under her own name through Hyperdub. This time around, she's taking on a new alias, Whatever The Weather, and teaming up with Ghostly International for an album where improvisation and experimentation take the lead, as she summons up a series of evocative sound backdrops inspired by degrees (as in degrees of temperature). Something I love about Loraine's music is how she's always trying things out, but without ever letting the experimentation overshadow the emotional bedrock of her work. "Whatever The Weather" is the real deal.
It's worth noting that this is the first officially licensed re-issue of Steve Monite's "Only You". That means something. It's also worth noting that, as Soundway explains in the Bandcamp notes, Steve now lives in South London. They're worth reading because, in the process of putting this together, they've dug up a bunch of interesting information and details about Steve and his music. I'm wondering if this means we'll be seeing Steve Monite in The New Yorker or New York Times soon.