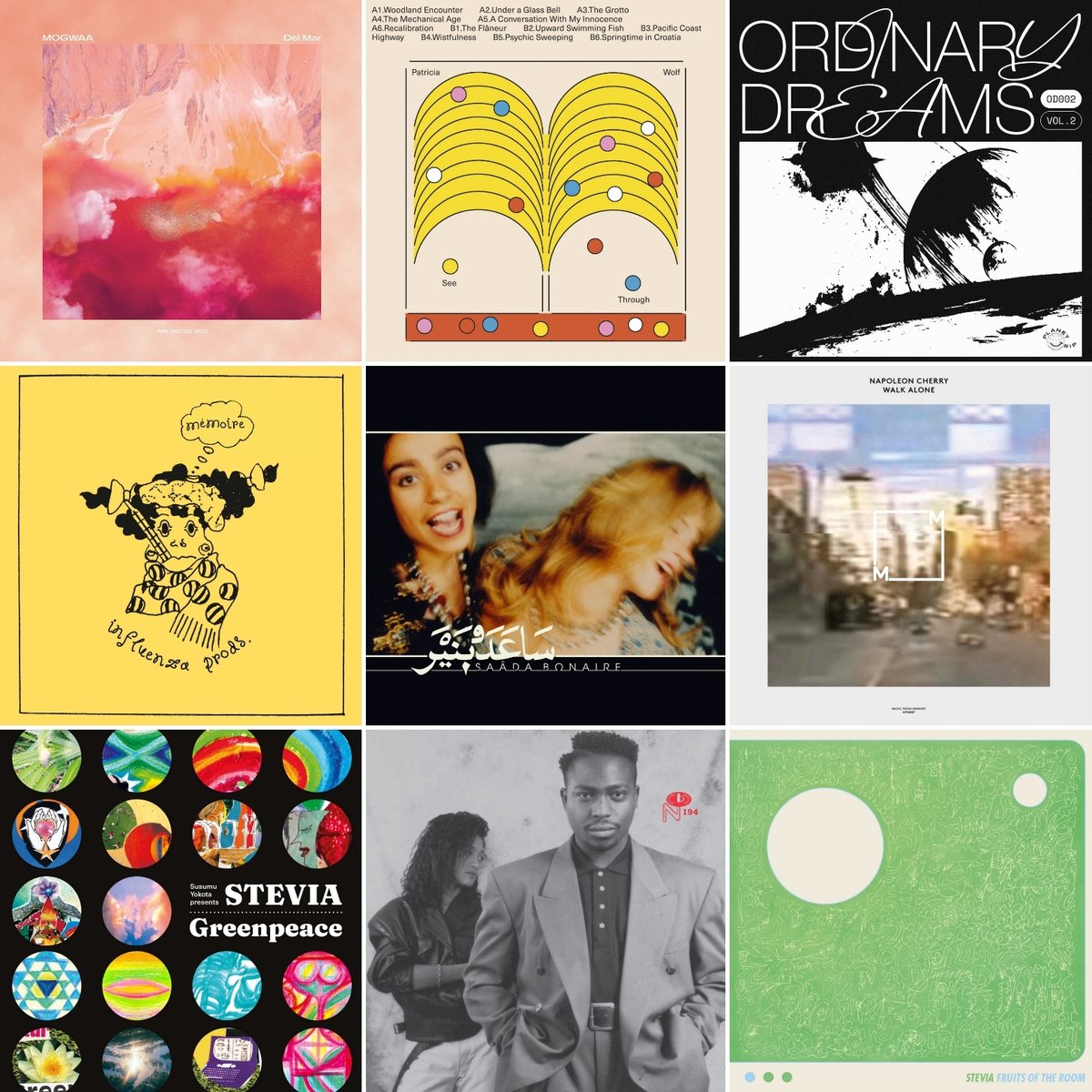 For those unfamiliar, Bandcamp Friday is a sometimes monthly event where Bandcamp waive their revenue share from sales to help support artists and labels affected by the pandemic. The next Bandcamp Friday is today, May 6th 2022 from midnight to midnight Pacific time. When I remember, I like to put together a recommendation list. Against all odds and a bit late in the piece, today is one of those days.
The always tasteful - and very stylish - Seoul-based South Korean producer, instrumentalist, DJ, digger, etc, Mogwaa turns in "Del Mar", a collection of six slick club-tempo tracks drenched in glossy synthesiser bliss. Themed around the sea and islands (hence the name, d'oh), "Del Mar" sees him turning his hand to various iterations of the Balearic beat, Italio disco, ambient house, and digital dub, all in a luxurious (almost utopian?) retrofuturist mode.
Sydney, Australia's open-eared (and open-mined) Planet Trip Records continue their "Ordinary Dreams" compilation series with twelve considered tracks produced by chilled-out heads from around the world. Symptoms Of Love, Paula Tape, Jex Opolis, Mayurashka, Errortica, Good Block, Mogwaa, DJ Ray, Ivy Barkakati and co serve up a deep sonic journey through dub, downtempo and reggae to the oddball, tribal and dream state mutations of house music. There's something for everyone on here.
After investigating grief, loss and acceptance through ambient composition and field recordings on her first album "I'll Look for You in Others", the Portland, Oregon musician and field recordist Patricia Wolf dials up the synthesis, instrumentation and atmosphere for her follow-up, "See​-​Through." Although the album ostensibly sits somewhere in the ambient, new age, drone constellation, the track 'Pacific Coast Highway' sees Wolf merging rich synthscapes with beats. In the process traversing the feelings of separation and togetherness.
How about this? A collection of previously thought lost and very much unreleased material from the German studio-based art music project Saâda Bonaire? Sounds good right? "1992" compiles the band's long-lost early nineties material. Produced between Bremen and New York City, the set of songs presented here document the group in a moment where they began to shift their trademark fusion sound (reggae, afro-funk, Eastern music, and sultry German female vocals) into then uncharted nu jazz, trip-hop, and house territories. Listening to it for the first time put a smile on my face.
Italian musicians Bruno De Angelis and Giovanna Gulinello aka Influenza Prods met in London in the late seventies. Inspired by the new independent music scene, they returned to Rome, moved into an apartment together, and began to create homespun recordings that mixed cheap drum machines with guitar, synth, airy vocals and tape loops and layering. D.I.Y. downtempo with an experimental lilt. "Mémoire", released by Melbourne's Left Ear Records, collects up thirteen of their evocative "Home Wave" cassette recordings from the eighties.
Lush late 80s/early 90s drum computer soul, synthesiser funk and bedroom gospel/RnB courtesy of the low profile Philadelphian musician Napoleon Cherry (aka Cool Waters) and Music From Memory, the label that took the time to curate his private press catalogue into a refreshed compilation album. As you'd expect, expect unsung music from the past which has, over the passage of time, aged in some very fine ways.
One of the joys of more recent years is watching digging and reissue culture start to really properly focus on peak time for the CD era (which I'm gonna say was the nineties and very early 2000s, but probably just the nineties really). This is how you arrive at the point where Glossy Mistakes, an excellently curated label from Madrid, Spain, have arranged to reissue both of Susumu Yokota's late 90s Stevia alias albums. Two cult CDs making the jump to double vinyl, with gorgeous reimagined cover art. Together, "Fruits of The Room" and "Greenpeace" represent Yokota-san's homage to the eclecticism of the foundational golden days of the Japanese club music scene. Special music indeed.
Numero Group shoots and scores with "V4 Visions: Of Love & Androids", a compilation album that explores how during the UK house rave explosion of the early-'90s, London's V4 Visions imprint managed to sit at the intersection of street soul, deep house, swingbeat, and jungle. Over the course of eighteen tracks, the influence of lovers rock, jazz-funk, sound system reggae, hip hop, new jack swing and UK garage bubbles up through killer cut after killer cut. Artists featured include Ashaye, Julie Stapleton, Maureen Mason, Rohan Delano, The Wades, and Endangered Species, all contextualised by liners from Simon Reynolds.